Loving well…Helping a young mother with her first months rent as she finds a job, is showing her God's kind of LOVE!  This summer we have had several young abortion minded and vulnerable women with financial needs. We have been able to help but our resources are now depleted. This summer giving has been down. We need your help so we can continue these amazing services, meet the needs of abortion vulnerable women and LOVE them well. 
Love is the only thing that can stop Abortion!
Will you partner with us today in loving well?
1John3:7 Beloved, let us love one another, for love is of God; and everyone who loves is born of God and knows God.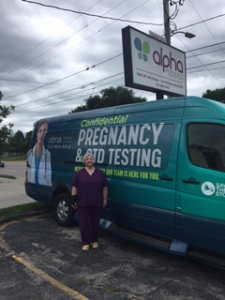 Nurse Kim, getting "Charlie with his new look" ready for work in Des Moines.
Save the Date and we need Family Banquet Sponsors.
Save the dates.
September 30th ~ Fort Dodge
October 1st~ Ames
October 3rd ~ Des Moines
October 7th & 8th ~ Iowa City
Burlington TBA
Our theme at Informed Choice of Iowa/Obria this year comes from Esther 4:14 "Perhaps you have come to your position for such a time as this."  We are rising to the good work he has called us to.  We are privileged to be a part of the amazing journey of the many live we save and touch.  Thank you for being a part of our story, too!
This year we are focusing on families and the position they have been given, so we have changed the flow of our banquets.  We are having local churches facilitate them so we can be more flexible and accommodate the whole family.  We will be providing child care and a children's program from our LIFE Begins curriculum.  Dinner will start at 5:30 and will be buffet service, so please feel free to come as you can between 5:30 and 6:45.  Praise and worship will start at 6:15 in the sanctuary if you would like to join us for that. The program will begin at 7:00 and end by 8:00. 
As we look forward to our fall family banquets, I want to share the exciting news that our speaker this year will be Kathleen Eaton Bravo, the founder of the Obria Group.  She will be sharing with us "The Power of Unity."  Obria has already made a substantial impact in the fight for lives and is positioned to do so much more. 
As always, we want to make available to you a chance to help underwrite the banquet costs, therefore any fundraising dollars given at the banquets can go directly to the work of Obria Medical Clinics.  Please look over the various ways you can help in this endeavor.  We are eternally THANKFUL for your support!
Call Rachel for more information @ 319-541-4241