It was about fifteen years ago, snow starting to melt, days getting longer and warmer.  I was sitting outside a local gas station in my hometown, staring down at two blues lines that appeared minutes earlier.  I was a teenage runaway, no real home with more uncertainty than ever before about my future.  So many questions went through my head.
The fear I felt at that moment was overwhelming. I knew three things immediately; I had to tell my mother, I had to tell the father of the baby and I had to figure out how this new life was going to fit into my 17 year old life.  My friends at the time were the first to know; I knew their judgment would be the easiest to endure.  The birth father was another story.
We didn't have what you would call a healthy, loving relationship.  It was primarily one of lust with no real emotions attached.  I vividly recall the two of us sitting in my cousin's living room.  I was so sick from my pregnancy I could barely sit up, I said to him, "You are going to be a father."  His instant reaction was to 'rid us of the problem'.   Except I knew, even though I was as far from God as I could be, that 'getting rid' of the life growing inside me wasn't an option. I told him immediately that wasn't going to happen. He said, "Good luck," and left.  That was the last time I saw him for a very long time.
The phone call to my mother came a week after I found out I was pregnant. It was the hardest call to make.  I knew I was living my mother's worst fear, teen pregnancy. She had had me at a young age, was unwed, and knew the hardships ahead of me. The beginning of the call went as I feared.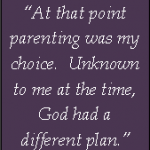 Disappointment and anger exuded from every word she said to me.  However, after her initial reaction she lovingly and simply said, "Please, come home."  At that moment I wanted nothing else.  Even though we were estranged for a while, love overcame her.   She wanted nothing more than to take care of her daughter, and her unborn grandchild.  I could not have asked for anything more.
I moved home and made it through my first trimester of pregnancy.  At this time my mother decided I needed to connect with the local Christian crisis pregnancy center for support and guidance.  Walking into the Concern for Women building I immediately felt shame…for my choices and for my situation. I sat in the small office above the Iowa City pedestrian mall and waited to meet with Donna, the director/counselor.
She walked out, a smile on her face and love in her eyes.  With one simple hug, my shame and humiliation was immediately washed away. We talked at length about my situation.  Near the end of our conversation, she handed me two large brochures on parenting and adoption.  At that point parenting was my choice.  Unknown to me at the time, God had a different plan.
Roughly a month later Father's day approached.  Somewhat apprehensively, I attended church with my mother and step-father. I sat in the pews listening to the pastor talk passionately about the role of a father in a child's life.  About how a father's love for his children should reflect Our Father's love for His Son.  I left church in tears.
When I reached the car an unbelievable hysteria washed over me.  I knew the pain of not having a loving father in my life.  At this moment I knew I could not allow my own child to feel this pain.  The only way to avoid this suffering was to give my child the family I never had.  The next week I met with Donna and told her my new choice, adoption.  She connected me with Bethany Christian Services, counseled me on the process, and provided all the information possible on the truth of adoption.
Soon a dozen profiles of families that wanted my precious unborn baby boy were in my hands. I carefully read each profile-pouring over the details each family provided. Choosing my child's future family was a daunting task.  Coupled with the fact I was about to change a couple's life forever felt like a lot of pressure.  After several weeks I held two profiles in my hands.

I had narrowed my search based on my own desires and wants in a family. I spoke to both couples over the phone.  After a short deliberation I knew which family was going to adopt my son.  In that short conversation with my son's future parents, everything I hoped my child would have was realized; a farm to run and play on, a loving Mother and Father, an adorable adopted two year old sister and two spirits filled with an unbelievable love for God.  I called the adoption agency and let them know I had made my decision.  Closer to my due date a face to face meeting with the chosen family was arranged.  This only made it clearer; God had led me to the right decision.

Time flew during the remainder of my pregnancy.  Each day my son grew inside me kicking and shuffling his way around, constantly reminding me he was there. I would talk to him.  Explain to him how much I loved him.  That he was getting the family I always longed for.  I remember how surprised I was that I could love this unborn boy so much when we hadn't even met.  Fear and sadness often would wake me in the night.  Tears came easily knowing soon I would be without him.
Summer turned to fall.  On the evening of October 25th my contractions started.  I went to the hospital believing it was time.  Only to be sent home because the contractions were too far apart. At home I tried to sleep but it was useless.  I knew this baby was coming and the anxiety of child birth and having to let go of my son took over.  When dawn broke on October 26th, 1996 I awoke my friend staying with us and insisted on walking to get doughnuts in hopes of moving along the contractions.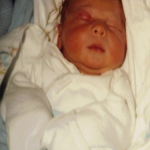 By the time we returned, my labor was in full swing.  I awoke my mother and waited while she readied herself for a long day.  My mother, friend, and I arrived at the hospital a little after 10:00AM.  My contractions were closer together and the pain became unbearable.  I paced the room swearing under my breath and uttering to myself, "I can't do this."  For the next couple hours I was inconsolable.  My mother and friend were unable to comfort me.
When the pain reached its peak, Donna from Concern for Women appeared in my room.  The woman who walked me through the steps I was about take, who witnessed the birth of more than 50 babies, who only had to speak softly and caress my hand and in an instant, I was calm.  Her presence in the room brought a peacefulness that piloted me through the rest of my labor.  At 7:00 pm it was time to push; within 30 minutes my baby boy was in the world.
There he was, lying on my chest with his blue eyes, fair skin and light blonde hair looking right at me. As soon as I could sit up, I reached for him, held him.  I examined every inch of him.  I was awestruck at his perfection.  I wondered how something so perfect could come from something so flawed.
As part of my birth/adoption plan I decided to spend every day I had in the hospital with my son.  I named him and filled out the paperwork with his name, Taylor James.  Those three days were some of the sweetest, and saddest, days I have ever known.  Some moments were spent oohing and aahing over my bundle of joy.  While others ended in tears.  Day two of my three day stay is one that has always stood out in my mind.  I was in the room with my son, alone for the first time since I had had him.  I was marveling at his pink toes and perfectly round face when it hit me.  I was leaving tomorrow…without him.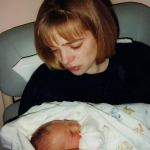 Tears began to fall fast and furiously.  At that moment a nurse walked in.  She sat down beside me, put her arm around me and stayed with me for quite a while in serene silence.  The gift she gave at that moment was of God's making and one that has never left my heart.  Unfortunately to this day I can't remember her name, just her kindness.
Day three, the last day of my hospital stay arrived quickly.  I held my son almost the entire day telling him I loved him and that I always would.  Around 6:30pm that evening it was time to say goodbye.  I decided to walk away not sure which would be more unbearable, watching him being taken away or leaving him.  Either way I was leaving the hospital without my son.
I walked into the nursery that evening trying to hold back the ever present tears.  I gazed at my son for five or ten minutes, held his tiny little hand and longed to sweep him up in my arms again.  Instead, I gathered my courage, leaned over him and told him again how much I loved and would miss him.  As Bonnie Raitt's "You Can't Make Me Love You" played over the nursery speakers I gave my son one last kiss on the forehead and said goodbye.
I walked, my legs feeling like lead, out of the nursery and what felt like miles to my mother's car. There were several times I was tempted to turn back, grab my son and head for the nearest exit.  Yet, I knew the truth.  God's hand was on this decision…my son now had a life I could never give him. The weeks and months that followed were difficult. There were tears, numbness and emptiness, but through my church's prayers and the prayers of my mother I was able to overcome and begin to move on with my teenage life. Grieving for my son took a long time to overcome but I never doubted nor regretted my decision on that day.
That was almost 15 years ago. Even though the sorrow of giving my son up still exists and tears still occasionally fall, I know this adoption is exactly as God intended.  God, in his Supreme Goodness and Blessings, has given me an amazing gift…the gift to know my son, Joshua, as he was named by his mom and dad.
Over the years Joshua's parents have kept our adoption open.  They originally discussed pictures and letters.  Shortly after I released him they contacted me through the adoption agency, asked about visiting and ever since I have seen Joshua on a regular basis.  Today my relationship with Joshua and his family has evolved from birth mother to family.  I stay frequently at Joshua's parent's house, attend his sporting events and my other children know him and call him "brother".  We celebrate holidays and birthdays together, we are truly Family. A family made from the Grace and Love only Jesus can breathe into a relationship. I am continually blessed and I thank God for all the amazing moments he has continued to give me over the last fifteen years  and for the moments that are yet to come.
Several times each year I reflect back to  when I was a scared 17 year old girl making what would likely be the toughest decision of  my life. In 15 years, I know I have never regretted bringing my son into this world and I have never regretted giving him the opportunity of a life I could not have given him on my own.
—Crystal
Informed Choices Volunteer
and mother of three.