Volume 5, Issue 2
Valentine's Day Promotion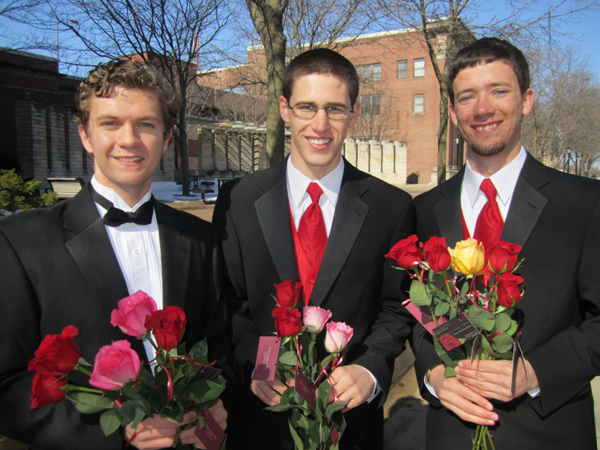 You are special. Be treated that way!!
"How precious are your thoughts about me, O God. They are innumerable." Psalm 139:17
We know how much God loves every human being and how precious all are to Him, but many young women do not have knowledge of God or His love for them.  Knowing this, Choices Clinic did an on-campus promotion at the University of Iowa on Valentine's Day.  Young men from a local  college ministry  dressed in tuxes and  handed out 500 roses to young women on the campus as they  came by on their way to class. Our business card was attached with the message on the back: "Happy Valentine's Day.  YOU ARE SPECIAL!  Be treated that way."
The impact was fantastic!!!  Young women went on their way beaming with huge smiles on their faces and our card with them as a  good reminder.  Please pray that  the young women on the U of I campus will turn to Choices when they are in need.
My Daughter Was Able to Begin to Heal
"My 19 year-old daughter attends (name of college).  Last summer she found herself in a less-than-right relationship and later found that the young man she was seeing had a secret girlfriend, who in addition to being pregnant had an STD.  This necessitated my daughter coming into your clinic and being tested for STDs herself.  Not only did you treat her with loving kindness in Christ, your influence on her was also very positive.  Since her association with you, she has attended a purity conference and is now a second time around virgin (or whatever you call it).  She is now in a right relationship with a Christian gentleman who knows her past and loves her and they plan to be married next fall.  I just want to thank you  —  Good girls who do things they shouldn't many times feel the most ashamed when they find themselves in the position my daughter was in.  Through your organization, my daughter was able to begin to heal and go forward. Thank you again."
–(Mother's name)
Why STI and STD Testing?
Why does Choices provide free STI (Sexually Transmitted Infection) and STD (Sexually Transmitted Disease) testing and abstinence counseling?
This is a question that someone asked me the other day.  As I was giving my answer I was thinking… "This would be a good newsletter article because other givers may have the same question."
My answer is yes, free STI & STD testing does fit with our mission of "Eliminating the Need for Abortion".
First, we use it in our advertizing. Women who are abortion-bound or vulnerable are in danger if they have STDs that could spread into their reproductive tracts. At Choices we are striving to reach these women out of concern for many aspects of their health.  The physical damage done by STDs can often be prevented by early intervention.  We have the opportunity and responsibility to care for them in every way that God directs. Ministering to women's bodies is a powerful way to reach their hearts. When abortion-minded and abortion-vulnerable patients come to the clinic for STD testing, we also can confirm their pregnancy through the use of ultrasound, which provides a powerful image to the mother of her unborn child.
Second, STD services are an attraction to the male partners of the women and thus opens the door for effective ministry to men. We now have five male counselors on-call. We are finding that the men's hearts are open to God and the abstinence message that goes along with our STD testing. As we reach out to the men, who are partners of abortion- minded women, we can clearly see that these  forgotten fathers  are silent victims of abortion.
Third, as Choices expands its medical services to Pap Smears and STDs, so does the appeal to the women whose first concern is not pregnancy, but reproductive services, such as STD testing, RU 486, the Morning After Pill or Emergency Contraception, etc. This is especially true for college and university women for whom STD services provide an important intervention in their lives.
The cost for STD testing at Choices is free to the patient, but it costs us about $45. We test for Chlamydia, Gonorrhea, Genital Herpes, Hepatitis B, HIV, HPV, Trichomoniasis, and Parasite Infections.  According to Centers for Disease Control statistics , one in four patients who come to a clinic for a pregnancy test is likely to have contracted an STD.
Because of free STD testing at Choices Medical Clinic, lives have been changed and lives saved by bringing hurting individuals to a safe place where they will be accepted, lovingly challenged, and led to physical and spiritual salvation.
~ Rachel Owen, Executive Director
Is it important to know if I have an STI before I terminate a pregnancy?
Yes. Having an STI (sexually transmitted infection) when you have an abortion can cause Pelvic Inflammatory Disease (PID), which can lead to a lifetime of reproductive health problems. We can provide free, confidential STI testing. Just call Choices Medical Clinic.
A Big Thank You!
Gifts to the clinic have been given IN HONOR OF:
Rev. John Spiegel
Rev. Michael Phillips
Rev. Thomas Hennen
Rev. Ken Kuntz
Rev. Jeffry Belger
Rev. Rudolph Juarez
Lawrence & Cecelia Thelen
Harold & Rita Sporrer
Tim and Rennie Crosby
Matthew and Carrie Crosby
Nelson and Erin Ferragut
Marvin and Karen Gent
Melissa O'Rourke
Greg and Georgia Gent
Save the Date!
The Walk for Life is May 7th

More Ways to Support the Clinic
"KCANS4LIFE"
Here's how it works: the Knights will be collecting all cans, glass or plastic bottles with a 5 cent redemption value in the St. Wenceslaus Church (630 E Davenport St, Iowa City) and at Dwight and Mabel Schuman home in Kalona ( 113 C Ave second house on C Ave off Highway 1) on the first Saturday of every month.
Iowa City drop off 10:30 to 1:00.
Kalona drop off 8:30 to 11:30.
No need to sort! All proceeds will go directly to the Pro-Life work in Iowa City.
Buy Your Coffee from Just Love Coffee
For every bag of fair trade certified coffee you buy from the link above, Choices Clinic will receive $5.00.  We also receive a  percentage of any other purchase from Just Love Coffee. Great coffee, great cause!