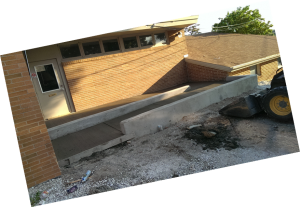 The Informed Choices of Fort Dodge Medical Clinic at 328 South 8th St. Fort Dodge, Iowa  is almost ready for it's soft opening. In fact as I am writing this the loner Ultrasound machine is on it's way and the plumber is finishing the bathrooms.  We still need to raise $20,000 to finish this project. Please be praying for this and ask your churches to get behind this LIFE transforming and LIFE saving Mission.The $20,000 will be for the medical supply's, teaching materials, window treatments,  and other furnishings.  
Volunteer Needs…
Parking lot: It would be great if we could have a section of our parking lot paved and striped. 
Landscaping: There is quite a bit of landscaping that is needed. Bushes, grass, and maybe some brick/stone work in the front.
Nurses,who would love to share about STI's, Women's Health, Sexual integrity, and the gospel while meeting the needs of hurting. 4 hours per week.
Volunteer Receptionists,who love to smile, serve and to see things run smoothly.  Computer skills will help. 4 hours per week.
Ultrasound Assistants, responsible for assisting the RN/Sonographer with the ultrasound appointments. As well as cleaning and prepping the exam rooms. 4 hours per week.
Church Liaisons, the "go to" person for the Clinic at the Church that they attend, as a pro-life ambassador representing Informed Choice of Iowa.
Data Entry and Follow-Up Coordinator, enter client assessments into Excel for statistics collection as well as chart reviews for follow up. 4 hours per week.
Youth Group Tour Coordinator, In charge of setting up tours and making sure the food (pizza, pop and cookies) is in place at the right time.
Baby Gifts/Shower Coordinator, works with the nurses manager and/or LIFE mentor/coach to distribute baby layettes or plans a baby shower for the new mothers who would like one.