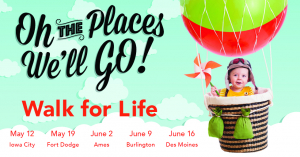 Join us for the 10th annual Iowa Walk for LIFE!
Together we will be saving Lives!
Step 1
Choose a Walk location that works best for your schedule. Pre-register at IowawalkforLIFE.org or call 319-358-1006. Drop-ins on the event day are also welcome.
Step 2
Set personal and/or team goals for fundraising and ask others to sponsor you. You will be amazed at how many will say YES!
Step 3
If you are social Media inclined, go to iowawalkforlife.org and utilize our online tools for Facebook, twitter, Instagram, or emails.
Each Person who raise $100 or more receives a T-shirt!