Thank you for your support during this crazy time. We believe that what the enemy meant to destroy us God can turn for good.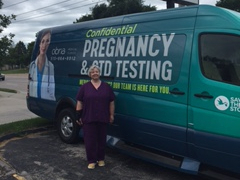 That is why during this unprecedented time we are going to be focusing on the good with the advancement of telemedicine and our mobile clinic presents across the state, to do our life saving work. 
Right now across the country giving to nonprofits has dropped around 50%. With the uncertainty of a recession The board of Informed Choice of Iowa has voted to restructure and cut expenses with the goal to maintain our outreach. We voted to close the Fort Dodge clinic with the intention of running our mobile medical clinic in the area a couple weeks out of each month and putting our major emphasis on telemedicine.
Over 70% of Millennial's and younger want to get their healthcare over their smart phone. The Pregnancy Medical clinic of the future is on the smart phone.
We are very excited for this restructuring. We will be able to do more ministry with less and save for the future so that we can be financially stable for years to come. 
We would ask that you would pray about giving to this essential ministry so that we can continue to bless and save lives.