Are you busy this weekend and can not make it to the walk for LIFE at Kent Park?
Good News… you can walk at home and still support the life saving work of Informed Choices.
We've made it easy for you by:
You can walk in your own neighborhood at any time form May 16th to June 20th and mail in your pledge form.
4 locations to choose as WALK sites.
Go to

www.IowaWalkForLIFE.org

and set on your own walk page on-line for more sponsors.
A 2 mile route that you can walk, run, bike, stroll a baby, skateboard, or crawl!
WE collect the money so you don't have to.
A great new t-shirt for all who raise $250.00 in sponsor pledges.
AND if you can't walk

that

day, you can still participate. 
 Perhaps you have a friend who may want to join you. Last year we had over 150 walkers and raised nearly $45,000. Our goal this year is $100,000.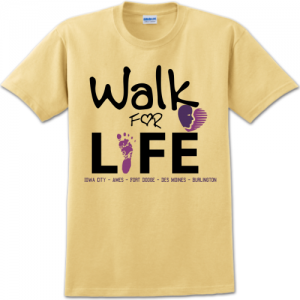 WE NEED YOU!  Your decision to come along is a decision to become part of the solution to unplanned or crisis pregnancies and sharing the love of Jesus with women, men and teens across IOWA. We are depending on the funds raised to continue offering our services and ministering to over 700 women that He will send our way this year. Our ambitious goal will allow us to boldly go forward with our programs and reach many more lives in the upcoming year.
By walking, we demonstrate that WE CARE about women and their unborn babies!
See you at the walk on
Saturday, May 16th, Iowa City @ Kent Park in Oxford
Saturday, May 30st, Fort Dodge @ Kennedy Park
Saturday, June 6th, Burlington @ Dankwardt Park
Saturday, June 20th, Ames @ Ada Hayden Park